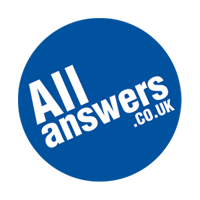 All Answers' response to the QAA request to PayPal
Published: March 20, 2019
We are aware of the recent press coverage relating to PayPal and the request from the QAA that PayPal stop accepting payments for our services. While this would create an inconvenience for our customers, it again signifies that the QAA do not fully understand how to approach the issue at hand. The QAA's aim is to stop businesses like ourselves from providing services due to the fear that they are potentially misused.
Right now, the QAA realistically have two options: 1) try to make conducting business more difficult, which would only serve to create a cat-and-mouse environment, or 2) push for legislation.
Would legislation solve the issues that the QAA raise? No not at all. All legislation would succeed in doing is to push the issue further away and make it more difficult to control. At this moment in time, the QAA have an opportunity to change that and take control - requesting changes via PayPal et al will not deliver what they are trying to achieve.
For over a decade here at UKEssays, we have been open about speaking directly with either the universities or the QAA in order to discuss the services we offer, but still the problem exists and demand continues to increase.
What do we at UKEssays suggest? Firstly, we'd be happy to sit down with Damian Hinds or the QAA to discuss their issues first-hand. We know the industry well; therefore, is it not better to talk directly with us about the issue and gain greater knowledge about the business?
Secondly, our recommendation, which has been the same for over a decade, is regulation. Why regulate the industry and what would this solve? Regulation would allow all parties to enhance control over the potential issue and mitigate any harm that could come from it. Regulation, by its very definition, allows for greater control and influence, which is something that we should be striving to achieve rather than allowing it to remain uncontrolled by pushing the market abroad, into the hands of less scrupulous actors. Taking control in this way, rather than driving demand into an underground market, appears to us to be the only sensible answer.
We suggest that institutions make students declare usage of services like ours. In turn, operators like us would be able to keep a register of users. This kind of transparency would ensure that the many honest students who use such services to enrich their learning have a safe, legitimate and regulated way to use it.
Prohibition does not work; history tells us this. Those who seek to gain control only push it into the hands of those who do not share the same morals or objectives.
Universities are looking for a solution to protect academic integrity. We support that aim, and would be happy to help find this solution.
Best Regards,
Daniel Dennehy,
Chief Operating Officer, All Answers Ltd